Selling Your Home
Selling your home is a huge financial as well emotional decision; it's much more that a house, a place to park your car or a yard to mow, it's your home.
So when you've finally made that all important decision to sell, wouldn't be nice to have a professional in your corner someone who thoroughly knows the market, has the experience, and will be with you every step of the way right up to the day of closing and beyond.
As a veteran real estate professional in the Mt. Pleasant and Central Michigan area I can handle every aspect of the selling process and do my level best to keep the process as pleasant and drama free as possible.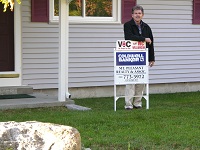 So if you're wondering if now might be the right time or have already made the decision to sell, please contact me and lets get started.

The following articles are a great place to start if you're looking for information about the sales process and how you can get more for your home when you decide to sell.